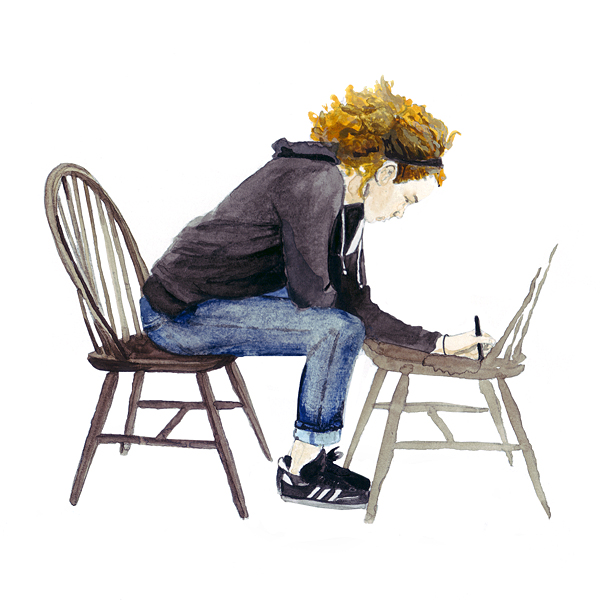 Statement:
Drawing is my key to understanding the world I live in – urban landscapes, filled with concrete, buildings and bursts of manicured green. I look to use drawing to capture the evidence of people in the places they occupy in these landscapes, by drawing the artifacts they have left behind—discarded signs, manhandled objects, spray painted opinions. My images are real moments, sometimes fractured and altered, caught quickly in snapshot. They focus on words that are handwritten, carved and sometimes printed. The marks we leave in the world tell a rich story of who we are and how we existed. My drawings help me to understand that and freeze them for a moment.
I work in different mediums, but focus on graphite, charcoal and pen on paper or wood panel. My work ebbs between traditional drawing and immersive drawing installations. I let the direction of the images captured in snapshot dictate the material so that each piece is a unique experience.
Bio:
Anne Muntges (b. 1982) studied at the Kansas City Art Institute earning her BFA in Printmaking in 2005 and at the University at Buffalo earning her MFA in Printmaking in 2008. Based in Brooklyn, her work focuses primarily on highly detailed drawing, prints and installation. She has been exhibited at the Children's Museum of Arts in Manhattan, the Ukrainian Institute of Modern Art in Chicago,  the Burchfield Penney Art Center in Buffalo, and many other spaces nationally. Most recently her work was  on view in the exhibition Consuming Moment, at the Roswell Museum and Art Center in Roswell, New Mexico.
Muntges' work is in many collections including the California College of the Arts, Library of Congress, Joan Flasch Library, and the Burchfield Penney. She has been awarded a NYFA/ NYSCA Fellowship in 2014, and many residencies and fellowships since 2010 including the Bemis Center for Contemporary Arts, BRIC, Guttenberg Arts, and the Roswell Artist in Residency Program.