January 2021
Anne Muntges: The Glowing Desert
Jan. 23–Mar. 21, 2021 //  Curator: Lynn Hai
Fou Gallery is delighted to announce our first show in 2021—Anne Muntges: The Glowing Desert. This solo exhibition of Anne Muntges will be on view from January 23nd to March 21st. Muntges works with a wide range of media, including highly detailed drawings, prints, and installation. During the exhibition, the space of Fou Gallery will be turned into a desert botanical garden by her elaborately drawn objects.
November 2020
A View From the Easel During Times of Quarantine
This week, artists reflect on quarantining from their studios in New Jersey, New York, and Wisconsin.

FLUX : Vita Mutata
CURATOR: NATSUKI TAKAUJI
Virtual Exhibition: November 15 – January 30, 2021
"FLUX : Vita Mutata" aims to uncover the processes that artists may have newly invented and/or rediscovered during the COVID-19 pandemic. Artists in this exhibition display works made before the pandemic period as well as works made during the pandemic period. The exhibition focuses on presenting the artists' transition from pre-pandemic through the lockdown and beyond.
The organization of this exhibition unfolds alphabetically by the name of the artists selected. Each artist section is structured as follows: name of the artist, the website of the artist, two (2) artworks created by the artist before the pandemic, two (2) artworks created during the pandemic, and the artist's statement report the experience each of them has had in their own narrative about how the pandemic has influenced their life, artwork, and process.
Reclaimed, Reimagined
Selected by curators David Rios Ferreira, Kristen Racaniello, Jacob Rhodes, Caroline KIm.
Featuring: Kiki Aranita, Daphne Arthur, John-Michael Byrd, Patricia Cazorla & Nancy Saleme, Anna Cone, Krystal DiFronzo, Sami Mordecai Elderazi, Amalia Galdona Broche, Kat Geng, Amber Heaton, Marina Heintze, Marilyn Holsing, Case Jernigan, Sung Hwa Kim, Gabrielle Erika Lyons, Michelle Lynne Mayer, Ana Milenkovic, Daniel Morowitz, Deborah L. Morris, Anne Muntges, Daniela Puliti, Julie Marie Seibert, Lea Simoniello, Emma Steinkraus, Lauren West, Sasha Zaitseva
For the next year I will be an artist in residence with the Monira Foundation at Mana Contemporary Jersey City. By invitation from Ysabel Blasi and Karline Moeller, I will spend 12 months working on a new installation. Artifacts and in process shots will be posted on my site through out the year.
Portal: Governor's Island Art Fair
A nice shout out for my work at the 2019 Portal Art Fair. I'm Affordable!
9 Affordable Works We Love at Portal Art Fair, NY Least Pretentious Art Fair, Sarah Cascone, Artnet News, 2019
June 2019
by: Thomas Micchelli
A great review of the show, Interior Monologues, up now at the Visual Art Center of New Jersey from Hyperallergic. Includes my parts of my ongoing installation Skewed Perspectives. 
Check out the whole write up here: https://hyperallergic.com/502998/visions-of-home-from-dream-memories-to-trump-country/
March 2019
Consuming Moment
Come join me for my solo exhibition at the Roswell Museum of Art!
March 23-May 12, 2019
Roswell Museum and Art Center
Opening Reception: Friday, March 22, 6-7 pm with artist's lecture at 5:30 pm
To learn more about the artist, please visit http://annemuntges.com
Drawing is Anne Muntges' key to understanding the world she lives in – urban landscapes filled with concrete, buildings and bursts of manicured green. She captures the evidence of people in the places they occupy by drawing the artifacts they leave behind, from discarded signs and manhandled objects to spray-painted opinions. Her images are real moments, sometimes fractured and altered, caught quickly in snapshot. They focus on words that are handwritten, carved and sometimes printed. The marks we leave in the world tell a rich story of who we are and how we existed. Her drawings help her to understand that and freeze them for a moment.
February 2019
Interior Monologues
Excited to be included in this show curated by Mary Birmingham at the Visual Arts Center of New Jersey! Open from February 22- June 16, 2019.
This group exhibition explores the real, imagined, or implied narratives connected to interior spaces. Several of the artists in Interior Monologues depict real places—some populated by specific characters—while others invent new places based on their own experience or imagination. Many of the works suggest hidden histories or embedded memories and emotions. The interiors devoid of people are like empty stage sets waiting for actors to animate them. Whether public or private, all of these interior settings are activated by the presence (or absence) of humans.
Interior Monologues is a multi-media show, incorporating painting, sculpture, drawing, collage, video, and site-specific installation. Participating artists are: Matt Bollinger, Erin Diebboll, Susan Leopold, Dana Levy, Summer McCorkle, Anne Muntges, Casey Ruble, and Paul Wackers.
October 2018
Women Who Rock
More than excited to be apart of the book project Women Who Rock. Official release date is in Ocotber, but you can take first peaks at the book here and even preorder! http://bit.ly/WWRbook
Parallax 6
Excited to have collaborated with Damian Weber on a broadside for the new edition of Parallax from Singing Saw Press! The ​PARALLAX portfolio, is an annual journal,  a collection of broadsides, each featuring the work of one artist and one poet. Each piece included is a  collaboration and dialogue between image and text. We are alongside some of my very favorite artists, Amos Kennedy and Amber Heaton to name a few. You can order your very own copy here: Buy Parallax 6
June 2018
Roswell Artist In Residence
For the next year I will be a fellow at the Roswell Artist in Residence (RAiR) program. The program calls this a gift of time, and it feels so necesary right now. So many ideas to work on in the studio and never enough time. It is time to draw draw draw!
April 2018
Is There a Mother in the House?
Some drawings have made their way to Chicago for the exhibition Is There a Mother in the House? at the Woman Made Gallery. More info at Woman Made Gallery.
September 2017
Children's Museum of Art: Bridge Project
This Fall I will be creating a new unique installation for CMA 's Bridge Project. More details to follow as the project develops.
May 2017
Space + Time Artist Residency
I am pleased to announce that this May-July I will be in residence At Guttenberg Arts for the Space and Time Residency. STAR provides artists with stipends to cover materials, travel and access to a professionally equipped workspace for the visual arts including printmaking and ceramics.  Artists work is supported with a group show at the end of the residency and three studio visits with arts professionals. Each artist will present a public lecture on their work or conduct a free public workshop towards the close of their three month residency.
http://www.guttenbergarts.org/starprogram
February 2017
Women artists take on the world at Main Street Arts
The bulk of art history is a testament to what man makes of his experience in this strange mortal coil. But Main Street Art's current exhibit, "Trying to Understand the World," reveals two examples of the female gaze — one is a literal look at the sights of the city, and one is storytelling based in metaphor.
Check out the full review!
January 2017
BRIC: 2017 Media Arts Fellows
BRIC is pleased to announce the 12 artists who have been selected to receive the 2017 Media Arts Fellowship, an award which makes BRIC's state-of-the-art media facilities and training programs available to professional Brooklyn-affiliated visual artists who have an interest in furthering their practice through multimedia and technology. This year's application process saw a record number of exceptional applicants with a variety of backgrounds vying for the Fellowship, which is awarded from January – December 2017. Those artists selected to receive the 2017 Media Arts Fellowship include: Shay Arick, Jesse Chun, David Colosi, Heidi Lau, Daniel Lichtman, Dain Mergenthaler, Anne Muntges, Nora Rodriguez, Farideh Sakhaeifar, Marco Scozzaro, Bradly Dever Treadaway, and Ellen (Jing) Xu.
Trying to Understand the World: Anne Muntges and Sylvia Taylor
Drawings and prints by two artists who aim to understand their surroundings, the world, and humanity. Through humor, exploration, and meticulous mark-making, both artists present engaging and contemplative work.
 Exhibition Dates: January 14–February 17, 2017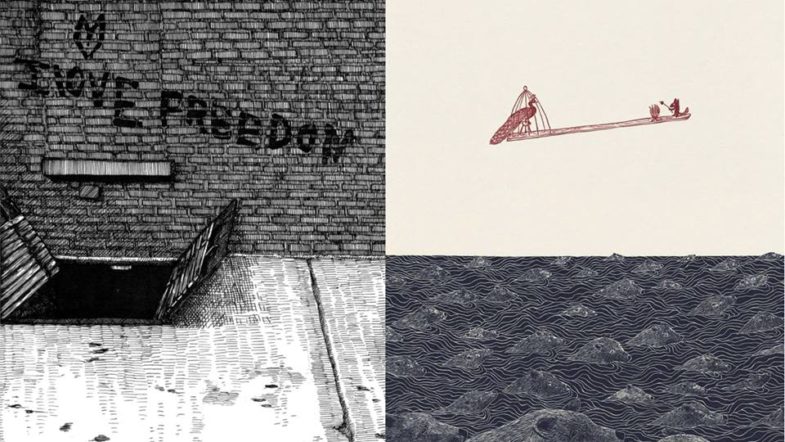 November 2016
ONLINE EXHIBITION SHOW #35: JULIE SPOKE SOFTLY UNDER HER LONG, SKINNY NOSE
An online exhibition in conjunction with Show #35: Julie Spoke Softly Under Her Long, Skinny Nose
Dates: Nov 3-Dec 10, 2016
Selected by Paulina Bebecka and the Field Projects Panel: Jacob Rhodes, Rachel Frank, Jason Mones, Katrina Slavik, and Bria Whitney
Featuring work by: Laura Bernstein, Claudia Bitran, Paul Brainard, David Chan, Andrew Chan, Jason Dunda, Angela Heisch, Janet Hill, Allison Hornak, Timothy Hoyt, Cindy Ji Hye Kim, Junsung Kim, Kirstin Lamb, Eric Legris, Sarah Moran, Anne Muntges, Dana Robinson and Samantha Sethi.
October 2016
A nice review for my show at the Western NEw York Book art Center. Check it out!
Anne Muntges at WNYBAC
September 2016
ME, MY PEN & I
September 9th – October 7th
The Western New York Book Arts Center (WNYBAC) presents Me, My Pen and I, an exhibition by Anne Muntges, on view from September 9th through October 7th, 2016. An opening reception to celebrate the exhibition will be held on Friday, September 9th from 6 p.m. – 9 p.m. at 468 Washington St. in Buffalo. This event is free and open to the public. Muntges will be leading a free Edition Assistance Printing Workshop on Saturday September 10th from 12 – 2 p.m. at WNYBAC. Pre-registration is required to participate. Click here to sign up!
The exhibition features 52 new drawings following Muntges' transition from Buffalo to New York City. These drawings document her walks through the neighborhood and the marks left by others: graffiti and signage. Unlike Muntges' other work, which has been an exploration of intimate interior spaces, this project is external process. Something about the city has forced her to adapt to looking beyond the space she occupies to start to find how she fit into a greater whole. Drawing is her connection to the world.
Facebook event
Western New York Book Arts Center Event
May 2016
WORK FROM HOME
Alan Ruiz, Anne Muntges
MAY 24TH, 2016 – NOVEMBER 10TH, 2016
 125 Maiden Lane – New York, New York  

Art-in-Buildings is pleased to announce the newest exhibition in the lobby of 125 Maiden Lane: Work from Home, featuring works by Anne Muntges and Alan Ruiz.
Muntges' and Ruiz's sculptural interventions create architectural spaces, appropriating familiar objects and materials to redefine traditional understandings of the home and office. Drawing on the diametrically opposed domestic and corporate environments, the artists create disorienting reconstructions of familiar spaces.In Muntges' highly detailed installations, she develops spaces that both align with and challenge ideas of the home. Skewed Perspectives is an installation of furniture, objects, knickknacks, and textiles that are typically found in domestic spaces. Muntges converts each element of the installation into a cohesive, immersive drawing by enveloping the familiar objects in a sheath of hatch mark patterns. Her labor-intensive process (she draws every line in the work by hand) expands drawing into three dimensions, flattens objects into two dimensions, and conflates the physical with the imaginary. Muntges manipulates items of comfort in order to bring moments of wonder and unease into a quotidian environment.Alan Ruiz's practice explores the ways in which the built environment reproduces and reflects structures of power. Engaging architecture as both a perceptual and political medium, his work questions the spatial dynamics between a work of art and its container. At 125 Maiden Lane, Ruiz presents a modular system of glass and aluminum units. Seemingly benign forms, they recall Modernist curtain-walls and office partitions, ubiquitous architecture within Manhattan's Financial District. In recent years, organizations have redefined their physical identity due to a rise in decentralized labor, doing away with corner offices and cubicles in favor of "open plan" workspaces. In these spaces, glass walls have become omnipresent, heralded as promoting collaboration among employees and "bright and welcoming" interiors. Yet, for all its promise of cooperation, glass may remain an apparatus of surveillance.Anne Muntges is an artist who makes highly detailed drawings, prints, and installation art based on concepts of the home. Born in Denver and based in Brooklyn, her work has been exhibited in New York at the New York Foundation for the Arts and Lilac Museum Steamship; in Chicago at the Ukrainian Institute of Modern Art; in Buffalo at the Burchfield Penney Art Center; and in Knoxville as a part of the Southern Graphics Council International Conference. She received a BFA from the Kansas City Art Institute and an MFA from the University at Buffalo. Muntges was awarded a residency at Anchor Graphics in 2010 and at the Bemis Center for Contemporary Arts in 2013, and received a New York Foundation for the Arts Fellowship in Printmaking/Drawing/Artist Books in 2014. In 2015, Muntges was awarded a fellowship and artist residency at the Vermont Studio Center and Ox-Bow.Alan Ruiz (b. 1984, Mexico City, Mexico) is an artist living and working in New York City. His work addresses the intersection of site-reflexivity, architectural discourse, and urban policy. He received an MFA from Yale University, a BFA from Pratt Institute, and is a 2015–2016 fellow in the Whitney Museum Independent Study Program. His work has been shown both nationally and internationally, including exhibitions at The Queens Museum, The Bronx Museum of the Arts, Abrons Art Center, Y Gallery, Horatio Jr., The Elizabeth Foundation for the Arts, and Johannes Vogt Gallery. His writing has been featured in TDR (The Drama Review, MIT Press), InVisible Culture: an Electronic Journal for Visual Culture, and BOMB Magazine. In 2015 Ruiz was an Artist-in-Residence with the Youth Insights Program at the Whitney Museum of American Art.Work from Home is curated by Jennie Lamensdorf and sponsored by the Time Equities Inc. (TEI) Art-in-Buildings. TEI is committed to enriching the experience of our properties through the Art-in-Buildings Program, an innovative approach that brings contemporary art by emerging and mid-career artists to non-traditional exhibition spaces in the interest of promoting artists, expanding the audience for art, and creating a more interesting environment for our building occupants, residents, and their guests.
For press inquiries please contact: Nikki Buccina, QUINN | nbuccina@quinn.pr | 212.868.1900 x387
http://teiartinbuildings.com/exhibitions/group/72  
March 2016
PALIPMSEST CULTURE
Pleased to be be a part of the group show and portfolio exchange. Show opens March 31st, Portland Oregon.
Palimpsest Culture at Soltesz Fine Art
ECHO ART FAIR IN NYC!
Reserve your place and see some of my drawings March 24th
SKEWED PERSPECTIVES
The Gallery at the Ann Felton Multicultural Center will be transformed into a miniature world, filled with hundreds of drawings on 3D objects, titled "Skewed Perspectives," by artist Anne Muntges. Muntges will manifest a home environment creating atmosphere and structure through its constructed elements and decorations. These elements directly inform her drawing and sculpture so that the pieces challenge the way we think about the spaces we inhabit. This must see exhibition experience will be onview March 2 – April 11, 2016.
Skewed Perspectives OCC
January 2016
A nice shot out from Tina Dillman on Buffalo Rising about my Show Skewed Perspectives at Big Orbit Gallery.
December 2015
In 2013 I was fortunate to have spent time at the Bemis Center for Contemporary Art as a resident. My time there was hugely influential in the work I have done over the last two years and I could not be more excited about this video they made about my time there.
2013 Alum Anne Muntges draws intriguing panels of the architecture of the home during her residency at Bemis.
Stacks: Three Decades of Writing Fellows
with an Installation by Anne Muntges
Opening Reception: Friday, November 13, 6:00 PM – 9:00 PM
Exhibition Dates: Friday, November 13, 2015 – Friday, February 12, 2016
Gallery Hours: Monday – Friday, 9:30 AM – 5:30 PM
Exhibition Location: NYFA Gallery, 20 Jay Street, Suite 740, Brooklyn, NY 11201
All events are free and open to the public. Reading in the space is encouraged. 
Join us on Friday, November 13, for a reception to celebrate the opening of Stacks, an exhibition of published works from over 100 NYFA Literary Fellows featured within a site-specific installation by Anne Muntges (Fellow in Printmaking/Drawing/Artists' Books '14).
Throughout the reception, authors with work featured in the exhibition, will have an opportunity to participate in an Open Mic Reading beginning at 6:30 PM.
Stacks: Three Decades of Writing Fellows with an Installation by Anne Muntges
Excited to be in New Prints 2015/Autumn, at the International Print Center New York.
The exhibition will be on display at IPCNY starting November 19, 2015.
The opening reception for New Prints 2015/Autumn will be held at IPCNY on Thursday, November 19th from 6 to 9 pm, with artists' talks at 6 pm. We hope you will be able to attend!
Artists include: Todd Anderson, Kathy Aoki, Allison Bianco, Evan Bellantone, Marcin Bialas,Mary Lynn Blasutta, Sebastiaan Bremer, Noah Breuer, Patrick Casey, Nathan Catlin, Phillip Chen, Matthew Colaizzo, Nicholas Conbere, Aurélien Couput, David Curcio, Kara Dunne, ScottEspeseth, Megan Foster, Carl Fudge, Rebecca Gilbert, Kevin Haas, Ellen Heck, Amira Hegazy,John Holmgren, Mary Hood, Cary Hulbert, Eeva Huotari, Fleming Jeffries, Crystal Johnson,Leekyung Kang, Kamil Kocurek, Andrew Kosten, Andrew Kozlowski, Sara Langworthy, Yujin Lee, Michael Loderstedt, Kate MacNeil, Barbara Madsen, Renee Magnanti, Nicole Maloof, Jessica Meuninck-Ganger, Barbara Milman, Anne Muntges, Lorella Paleni, Kurt Pammer, Margherita Paoletti, Jill Parisi, Alyssa Piro, Kasey Ramirez, Mark Rice, Jenny Robinson, Jungyeon Roh,Michelle Rozic, David Sandlin, Carrie Scanga, William Skerritt, Evan Summer, Rob Swainston,Clare Szydlowski, Sergey Zlotnikov.
As a part of the programming for CEPA Gallery's CSA project I was recently interviewed by David Mitchell. He put together a really great video so that you (and others) could hear me talk about my ideal spaces & the world that I create for myself through my drawings. The music featured is by Damian. Enjoy!
CSA Featured Artist Anne Muntges
Pleased to be spending the month at the Ox-Bow Artist Residency in Saugatuck Michigan. www.ox-bow.org
I am pleased to be participating in the inaugural year of this program through CEPA.
CEPA Gallery is delighted to announce its inaugural Community Supported Art (CSA) program to benefit local artists, CEPA Gallery's award-winning education programs, and Western New York art collectors. CEPA's innovative CSA program will commission eight local artists to produce fifty "CSA shares" comprised of eight artworks each. CEPA's inaugural CSA artists are Joel Brenden, Kyle Butler, Fotini Galanes, Megan Metté, Anne Muntges, Stacey Robinson, Marshall Scheuttle, and virocode – an impressive roster of locally-based, emerging artists, practicing in a variety of mediums, all with a national or international exhibition history. Shares will be available for purchase by the first fifty art-minded patrons to sign-up as season "shareholders," beginning on June 15, 2015 for the price of $475.00. Shareholders will then receive their CSA share at a CSA pick-up party at CEPA's Big Orbit Gallery project space at 30-D Essex Street, Buffalo, NY on Thursday, November 5, 2015 from 5:30-8:30 p.m. The party will include an exhibition of the eight artworks available in the CSA share, a seasonal cocktail buffet, cash bar, music by ABCDJ, and a chance to meet the CSA artists in person. CEPA Announcement
Colin Dabrowski of the Buffalo News write up and video: A Closer Look: Anne Muntges' Skewed Perspectives
Jack Foran of the The Public: Skewed Perspectives: Anne Muntges at Big Orbit
CEPA Gallery is pleased to present 'Skewed Perspectives' an installation by Anne Muntges at Big Orbit Project Space.
Both strange and whimsical, 'Skewed Perspectives' is a compelling installation that simultaneously recalls Marcels Duchamps ready-mades, A-ha's video for Take On Me, the illustrations of Edward Gorey, the tableaus of Sandy Skoglund, and the obsessive beaded environments of Liza Lou. Painstakingly created over the course of two years, the intricately cross-hatched surfaces of these domestic environs speak to the complex and intricate psychic wranglings between feminine tradition and personal independence.
Citing Simone de Beauvoir's The Second Sex as source of inspiration, Skewed Perspectives: "is an installation of a home I built that reflects the confidence and confusion of what it means to be a female". By covering every surface — rendered in stark black and white using white painted primer and black acrylic pens — Muntges uses mark making as a means of exerting control and exorcising fears.
Please join us on Saturday, June 13, 2015 from 8pm – 11pm at Big Orbit Project Space for an opening reception with the artist.
SKEWED PERSPECTIVES will be on view through August 9, 2015.
This event and exhibition is free and open to the public. Gallery hours are 12-6 Friday-Sunday
I will be heading to the Vermont Studio Center for a May Residency. Excited to have dedicated studio time and to be surrounded by some rad artists!
http://www.vermontstudiocenter.org
A nice write up from Patricia Briggs about our studio visit and my show at the Jamestown Community College in Olean this past January.
My piece is called Backyard Oasis and will be on display on Jackson Ave in Knoxville, TN. Progress images of this piece are posted on the In Process page. http://web.utk.edu/~sphere/Pages/PrintsinPeculiarPlaces.html
A little bump from my MFA Alma Mater -http://art.buffalo.edu/2015/02/04/muntges-wins-nyfa-fellowship/A complete list of the fellow winners for 2014-http://current.nyfa.org/post/108892733988/nyfa-proudly-announces-the-2014-artists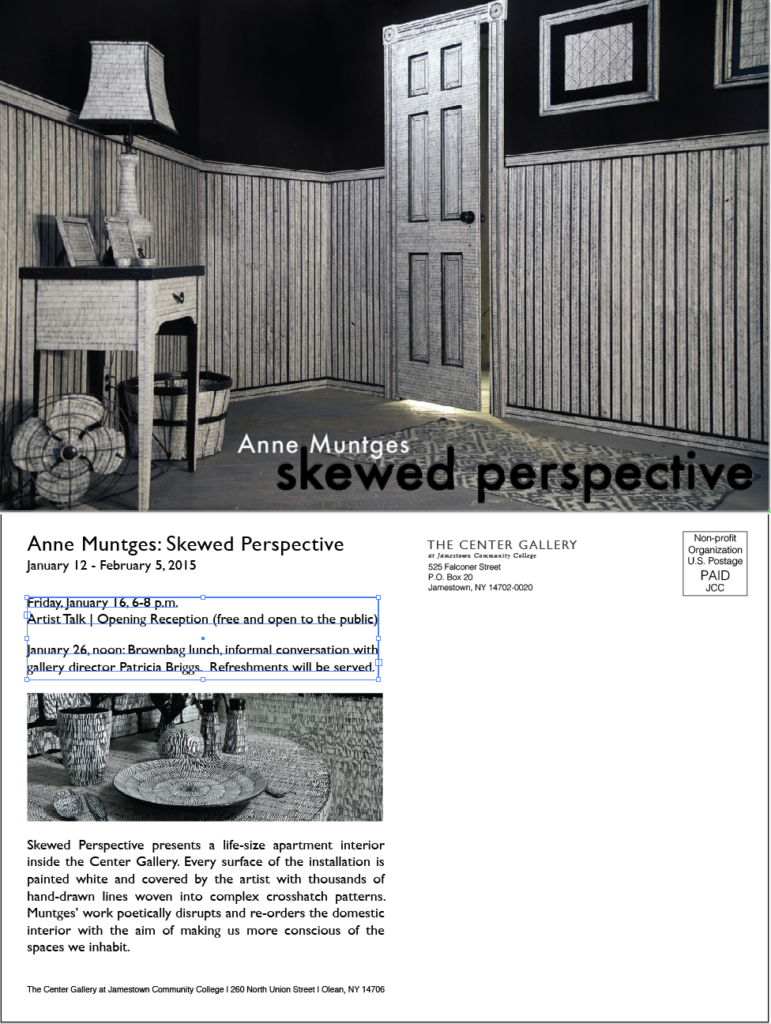 Damon Morey, Avant Building Buffalo, NY
Modern Eden Gallery, San Francisco, CA
A group exhibition of contemporary portraiture, self portraits, and artwork dealing with the human condition as subject matter.
Artists in the exhibition:
– Kathy Calderwood (painting)
– Robert J. Clarke (drawing)
– Maria Galens (painting)
– Richard Harvey (sculpture)
– Francesca Lalanne (metal drawing)
– Tom Lightfoot (painting, mixed media)
– Robert Ernst Marx (painting)
– Colleen McCall (ceramic sculpture)
– Mitch Messina (ceramic sculpture)
– Anne Muntges (drawing)
– Caitlin Pallischeck (painting)
– Jose Enrique Portas (painting)
– Mike Tarantelli (drawing/painting)
– Wayne Williams (metal sculpture)
– Bill Wolff (wood sculpture)
Exhibition Dates: January 8 – February 28, 2014
"Winter" Group show at Indigo Gallery, in Buffalo NY. December 6th – 21st
Opening reception First Friday, December 6th from 6pm-10pm
From October 1 till Christmas I will be working away at the Bemis Art Center in Omaha, NE on new drawings and installation pieces. Could not be more excited. Will be updating on the site as I go as well as on all unnecessary social media outlets.
For more info about the space and all the amazing things they do visit http://www.bemiscenter.org
Indigo Art (Buffalo, NY)
Anne Muntges, Bill Stewart, Kasia Keeley, Lily Booth, Nancy Belfer
echo Art Fair, a juried fine art exposition, connects experienced collectors and first-time buyers with established and emerging local, regional and international artists in a centralized and creative environment.
echo Art Fair showcases a broad scope of fine-art disciplines, including painting, photography, sculpture, print, works on paper, video and mixed media.
Artists and galleries exhibiting at the fair are evaluated and selected by a jury of contemporary art experts—ensuring that attendees enjoy the highest quality viewing and buying experience.
echo Art Fair was founded and launched in 2011 and, in under two years, has evolved to be one of the region's most notable fine art events. The fair grew from a one-day event, in 2011— drawing more than 3,000 visitors — to a full weekend of events, in 2012 — which was attended by a crowd of more than 10,000. 90 artists and galleries submitted entries for the 2011 fair, from which 62 artists and 6 galleries were selected by that year's jury.
MARKED & MANIFEST
You Are Invited:
Saturday, August 3rd, 6:00 – 8:00 PM, join us for the opening reception of Marked & Manifest, Exhibit A's new exhibition showcasing:
Kyle Butler
Anne Muntges
Rosalyn Richards
Allen C. Smith
Melissa Zarem
Come early, for a  5:30 PM gallery talk with Marshall Hyde curator of Glass Beads Now which features glass beadmakers from the US, Canada, UK, France, Germany and Japan, all practicing at the peak of their craft.
For updated information on upcoming exhibitions and events visit Exhibit A online.
Please join me at Indigo Gallery Friday February 1st from 6-9 for a show of my new works called Small Contradictions.
The show runs through February 24th.
The work in this exhibition is a series of new drawings and a drawing installation that explore my home where disruptive and decorative elements often collide. The rooms fold in on each other bending space skewing perspective and sporadically have barriers that prevent views from investigating further.
The exhibitions title, Small Contradictions, is a phrase that is refers to the handing of space and material with the new work. Elements of the drawings often don't line up and architecture features appear and disappear with little logic.
Also an article for the show from the Artvoice.
http://artvoice.com/issues/v12n7/art_scene/architectural_peelings
Doors open at 7 pm.
Drawing begins promptly at 7:15
Join us in Asbury Hall at Babeville in beautiful downtown Buffalo for Hallwalls' twice annual live drawing rally event. Initiated in February 2012, the Drawing Rally event allows audience members to watch their art being drawn in two intense 45 minute drawing sessions, followed by a silent auction where these same works can be purchased. All participating artists have kindly donated their time and the resulting drawing, in order that Hallwalls can apply a low opening bid to each work and encourage some affordable art purchases. In line with our thirty-eighth year of operations, opening bids for all works will begin at $38.
To make perfectly clear the printing process's basic methodology, the Western New York Book Arts Center folks will demonstrate the basic idea next Saturday, July 28, using a one-and-a-half-ton steamroller.
The steamroller printing will be done from woodcuts made by four local woodcut artists, Michael Beitz, Adele Henderson, Barbara Rowe, and Hye Young Shin. The steamroller prints will be on cloth. Maybe you'll get to take one home.
On view April 13-June 9. Opening reception on Friday, April 13, 6-9pm
An exhibition dedicated to showcasing serigraphy as an art form.
The work featured in this show is exclusively screenprinted, though a variety of techniques, styles, and themes from three artists are showcased. From masterfully technical printing techniques, depicting mystic scenes from another world, to pages from a handmade book displaying artfully cropped images of international logos and signage, these works go beyond commercial screenprinting and display the artistic possibilities of serigraphy. An in-depth look into the process of serigraphy will also be featured in this exhibition, uncovering the methods and practices of screenprinting.
The Journey of the Spirit is a master suite of remarkable serigraphs depicting the gentle flow from dawn to day to dusk to dark in a mysterious, color-infused, southwest inspired landscape. This impressive body of work was created in the scorching heat of Tempe, Arizona in the early 1980's. Artist Sandra Hall worked with master printer Ed Ott on this epic series. The exhibition of this suite is noteworthy since, as Ed Ott stated, "this will be the first time, ever, that I have seen this amazing suite of prints hanging all together- complete from Dawn to Day to Dusk to Dark."
Signs of Life features 26 screenprints depicting colorful, cropped, and alphabetized signage and logos found in various European cities. These prints are proofs for an artist book series by Jim Butler. Butler is an artist and printmaker who lives and works in Cambridge, UK. This is Butler's first U.S. gallery show.
In Process by Anne Muntges displays the necessary steps an artist must take in order to create a screenprinted piece. Through this series, Muntges clearly introduces viewers to methods of serigraphy and reveals how the artists featured within this exhibition produced their work.
The Western New York Book Arts Center is excited to host such a noteworthy and exciting exhibition that highlights the Center's brand new screenprinting facilities. Over the past year WNYBAC has been working tirelessly to incorporate this important method of printing into its repertoire of programming.
6E galeries NFS: detunement: new works of Tim Noble (Baltimore)
http://www.facebook.com/events/323435091052969/
……….
5W Burns Gallery: Scotty Bye, Katharine Renee Gaudy, A.J. Fries, Ani Hoover, Anne Muntges, Kasia Keeley, Marie-Claire Bozant, Phil Hastings
http://www.facebook.com/events/271657406250029/
……….
4W FACILITY: Kyle William Butler, Alicia Paolucci, Kristen Seeley, Reanna Kaopuiki, Jason Seeley, Paul Wilson, Shasti O'Leary Soudant, Alice Alexandresu, Yu Fayefaye
http://www.kylewilliambutler.com/
http://jasonseeley.tumblr.com/
http://closedcaptioningbysatan.tumblr.com/ (Alicia Paolucci)
http://www.indefenseofthecardboardcastle.com/ (Paul Wilson)
http://vimeo.com/shasti
http://www.shasti.com/
March 2, 2012 – April 3, 2012
Opening Reception March 2 from 7–9:30pm
The works of more than 20 artists from throughout Western New York will be on display when the Cathy and Jesse Marion Art Gallery at SUNY Fredonia hosts the "MARK 11/2012" exhibition beginning March 2.
The exhibition features the works of artists who participated in the New York Foundation for the Arts' MARK program in 2011. Participating artists are from Fredonia, Buffalo, Rochester and other locations in Western New York.
"Each of the 21 artists will be submitting one or two pieces for display and includes a variety of mediums," Art Gallery Administrator Tina Hastings said. "There is no other theme that ties this exhibition together, so each artist's work will make a truly individual statement."
The exhibition will feature paintings, sculptures, photography, video and drawings.
The painting shown above, Sliding Frame of Reference (2011), will be featured in the exhibition.
More information about the NYFA Mark Program
More information about NYFA
Doors open at 7pm • Drawing Begins at 7:30pm • Cash Bar
Bruce Adams • Mary Begley • Marie-Claire Bozant • Joel Brenden • Kyle Butler
Scott Bye • Caitlin Cass • Millie Chen • Charles Clough • AJ Fries • Amy Greenan
Dana Hatchett • Tom Holt • Mark Lavatelli • Joan Linder • Anne Muntges
Esther Neisen • OGRE • Alicia Paolucci • Nancy J. Parisi
Dana Saylor • Katherine Sehr • Jeff Sherven • Rich Tomasello
Benjamin Van Dyke • Kurt Von Voetsch • Alfonso Volo • Adam Weekley
30 Artists drawing live in two 45 minute sessions, the completed works to be silent-auctioned with opening bids of a priced-to-sell $37 in honor of Hallwalls' 37th year.
http://www.exh-a.com/future.html
Silent Art Auction.
The Annual Artist Silent Auction, featuring artwork from many renowned artists- preview to be hung at WNYBAC Dec 16th.
http://wnybookarts.org/newyearsart11-12.php
In support of a project I began at the Western New York Book Arts Center, we have started a Kickstarter Campaign to finish raising money for the new screen printing facilities at the shop. Check out the link below to learn more. This project has consumed most of my time since May and is incredible important to me.
PRESENTERS
Sergio Lopez-Pineiro
Carl Lee
Dorothea Braemer
Matthew Dore
Leah Rico
Amy Greenan
Georgios Rafailidis & Stephanie Davidson
Anne Muntges
Jason Seeley
Gregory Delaney
Special thanks to Richard Kegler for hosting Pecha Kucha Night vol. 11 at WNYBAC!
PechaKucha Night was devised in Tokyo in February 2003 by Klein Dytham architecture as an event for creative people to meet, network, and show their work in public. It has turned into a massive celebration, with events happening in 445 cities around the world, inspiring creatives worldwide. Drawing its name from the Japanese term for the sound of conversation ("chit chat"), it rests on a presentation format that is based on a simple idea: 20 images x 20 seconds. It's a format that makes presentations concise, and keeps things moving at a rapid pace. This will be the 11th PechaKucha Night organized by PechaKucha Buffalo.
Make art! take art home! Free!
Each of the 2 sessions by 4 different artists will feature techniques demonstrated and discussed with the ability of participants to try it out!
To be held at the WNY Book Arts Center 468 Washington St Buffalo NY
Saturday Oct 22
ANNE MUNTGES
>>Screen Printing<<
Anne will debut the new Screenprinting facilities at WNYBAC and teach basic techniques.
Faculty Show: Villa Maria College, Buffalo NY.
I have an installation of the Sleeping Birds jar series up for the month as a part of the faculty show inthe school gallery.
Made in New York: Schweinfurth Memorial Art Center
The piece Sure Shot is included in the show running from March 26 – May 29 2011

Annual juried exhibition featuring 77 contemporary works of art by 52 New York State artists. Artists in this year's exhibition were selected from 684 submissions by 356 artists. This eclectic exhibition showcases photography, painting, video, sculpture, book arts and more.
http://www.schweinfurthartcenter.org/exhibits/2011/MadeinNY2011.html
SGC International: Pecha Kucha Night
Time: 7:30-9p, March 18
Location: Casa Loma Ballroom, 3354 Iowa Ave.
Printa Kucha features a special presentation format in which each presenter is allowed 20 images that are each shown for 20 seconds—giving 6 minutes, 40 seconds, of fame before the next presenter is up.
Presenters for the evening are: Adele Henderson & Anne Muntges, Tate Foley, Jason Urban, Sharon Pollack, Stephanie Smith, Nathaniel Stern, Michael Krueger, Kim Wardenburg, Beauvais Lyons, Jason Scuilla, and Brian Stuparyk.
The Printa Kucha presentations are part of the Friday evening events on Cherokee Street.
http://cherokeestreetnews.org/?p=3339
At Niagara County Community College (NCCC) Combat Paper Project, will present public demonstrations and workshops on the processes of making handmade paper using uniforms that were worn by soldiers serving in the US military. Local veteran's organizations are invited to participate in these events. This residency will run from January 30 through February 4, and be followed by a second residency of local printmakers Hyeyoung Shin and Anne Muntges. They will be creating broadsides that use the texts and visual responses from the Combat paper workshops, printed on the handmade paper. An exhibition entitled Fabric of War will open in the NCCC Art Gallery on January 27 and run through February 26, with an opening reception on Tuesday, February 1st from 6:00 to 8:00 pm which will include a lecture and demonstration by the printmakers.
For more information you can visit www.niagaracc.suny.edu/fabricofwar or www.combatpaper.org[/vc_column_text][/vc_column][/vc_row]